Quality of service Imperative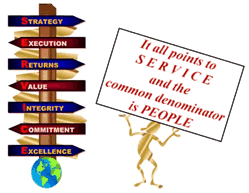 ​What really matters in business is service! We provide our global clients with comprehensive total quality services extending beyond the borders of traditional executive search consulting firms. We bring to our client partnerships both experience and an action orientation in all aspects our sourcing process. All services are focused on long-term client relationships which generate value added impact.

Our resources, research capability, contact network, and search techniques rival those found in the largest firms in our industry. Yet, our smaller size affords the client a one-on-one relationship with the professional who performs, rather than just originates, the assignment.

Unlike many other search firms, more than 85% of our projects are repeat assignments - some approaching two dozen - for established clients who have come to rely upon us as partners in their strategic manpower, succession planning, and talent integration efforts. These competitive clients require seasoned and decisive executives - proven leaders who are innovative, flexible, motivational, and "talent magnets" who thrive in a leading-edge environment.